Doctor ~ Product and Features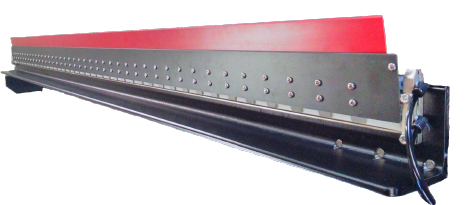 Doctor Equipment
Doctor, specifically by Doctor Blade, removes contaminants on any industrial rolls.
Playing the role of quality watcher on the rolls, our Doctor contributes to best operation condition in producing high-performance production materials such as paper, steel and film, with its distinct functions and reliable performance.
Doctor consists of Doctor Blade, which touches on the roll, Blade Holder that controls the blade, and other supporting parts. Doctor can be customized in almost any ways with additional functions or other control systems in accordance with the conditions.
Each element of Doctor, so-called Doctor System, is maximized in respective performance by adopting the best materials and/ or functions to given environmental conditions in your factory.
We make sure our abundant experience and technical expertise provide support in every step from designing and actual implementation to consultation for existing Doctor's betterment, in order for your steady production operation.
Double Air Tube Type Doctor ~ Structure and Features

Doctor Equipment
With two air tubes cover the entire device, this specific Doctor has the system to pressurize its blade.
Compressed air in the factory provides primary resource to respective air tubes for operation.
Doctor Blade touches the roll once pressure tube is pressurized as torque is generated around pivot while finger acting as the contact. Contact pressure, proportionate to the pressure of supplying air tube, can be adjusted by control panel.
When pressurize opening tube, Doctor Blade is led to detach from the roll. This demonstrates its outstanding maintenance capability, exchanging expendable blade and others.
Sending the fluid pressure in the tubes, which is elastic, the touch of the blade is automatically adjusted that shows outstanding 'Doctoring effect' (any positive effects brought by using Doctor).
Double Air Tube Type Doctor is controlled offline by exclusively developed control panel for its safe performance.
Types of Blade Holders and Features
Double Air Tube Type (STD)

Two air tubes embodied inside the holder enables pressurization/ opening.
Having pressurization/ opening system within the holder makes the size of Doctor compact.
Volume of pressure can be controlled offline by changing air tube pressure.
With elasticity of tubes and holder, volume of pressure is automatically adjusted and keeps touch of the blade on the roll equal throughout the blade that results in steady and durable operation.
Double Air Tube Type (Compact)

Compact type of Double Air Tube (at your left) is successfully scaled down,keeping structure and functions as they are in original type.
Despite its space-saving size, this showcases excellent performance with lightness and high rigidity.

Oil Tube Type (at your right), an elaborated type, puts oil instead of air to a pressure tube, particularly for the condition where the air is limited.
Solid Type

The holder needs its own dead load or pressurization mechanism, including pneumatic cylinder, since it does not have moving part.
It proves versatile as well as its high rigidity due to its simple structure.